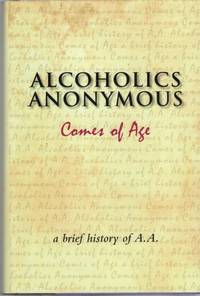 Alcoholics Anonymous Comes of Age
More than half a century has gone by since A.A.'s historic 1955 Convention in St. Louis, when the founding members passed on to the entire Fellowship the responsibility for the three Legacies of Recovery, Unity, and Service. This book takes A.A. members and interested friends on a quick tour of the Convention, traces the history and development of the Three Legacies, and looks at A.A. through the eyes of some early non-alcoholics who influenced the Fellowship's history. 
The first part is co-founder Bill W.'s reminiscent sketch of the Convention, in which he takes an appreciative look at many of the participants and reflects on events that shaped A.A. The second part consists of Bill's three Convention talks, edited and enlarged, on the Legacies of Recovery, Unity, and Service. Here is Bill's story - how he drank, got sober, met Dr. Bob and other founding members, and how they struggled together to keep A.A. going, with little guidance beyond the lessons of experience. Then Bill Moves on to describe how the Twelve Traditions developed as A.A.'s protective shield against the human faults that lead alcoholics into trouble, drunk or sober. And he finishes by laying out the development of A.A. services, culminating in the formation of the General Service Conference to serve as guardian of A.A.'s Traditions and world services. 
In the third part, readers will meet five early friends of A.A.: Dr. Harry Tiebout, the first psychiatrist to openly espouse A.A.; Dr W.W. Bauer of the American Medical Association; Jesuit Father Edward Dowling and Episcopal priest Dr. Samuel Shoemaker, both of whom helped shape A.A.'s spiritual principles; and Bernard B. Smith, attorney and longtime chair of the General Service Board. These nonalcoholics tell of their association with A.A., the part they played in its development, and their view of what the future holds.
---
We Also Recommend