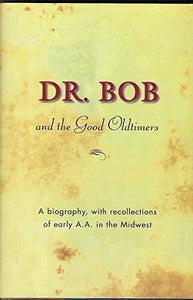 Dr Bob & the Good Old-timers
Alcoholics Anonymous, by its very nature, could not have been founded by one person. Its essence is sharing. Therefore, Bill W. and Dr. Bob are always referred to within the Fellowship as the co-founders. So far, among the majority of A.A. members, the Ohio surgeon has been less well known than his partner. He died in 1950, when A.A. was only 15 years old. But his influence on the whole A.A. program is permanent and profound. 
This book attempts to give a protrait of Dr. Bob as full-scale and balanced as possible - for the most part, in the words of those who knew him personally. The youngster who grew up in Vermont of the late 19th century became a hard-drinking college boy, then a medical student fighting the onset of his own alcoholism, a respected physician, a loving but increasingly unreliable family man, and at last a desperately ill drunk, without hope until he met a stockbroker from New York - Bill W., who urgently needed a fellow alcoholic to help him maintain his own sobriety. 
Beginning with Dr. Bob's last drink and the start of the Fellowhip, his story becomes involved - through interdependence - with those of other early members and of pioneer goups in the Midwest. This development was both exhilarating and tumultuous: Only the trial-and-error method taught A.A. the best approaches for newcomers; connections with the Oxford Group grew uneasy; dissension arose over the writing of the Big Book, finances, participation by members' wives, and minorities in A.A. Through it all, Dr. Bob was a steadying central figure. 
The end of the story returns to the intensely personal view. But even in his last years, Dr. Bob was drawn into hard-fought discussions and eventually decisions that would reach far into the futre of A.A. worldwide.
---
We Also Recommend