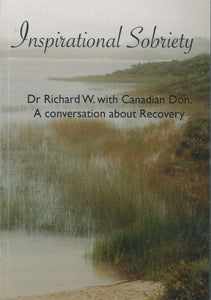 Inspirational sobriety
Inspirational sobriety.  From the author of "Gems of Recovery" comes a story of his conversation with Dr Richard W a sober alcoholic, struck down with the dreaded "C" word...
"Ask yourself, 'What's the worst news you could get?' For me it would be 'You have Cancer. It is incurable. You have months to live.'
Now imagine you are an alcoholic in recovery. Would you pick up a drink?
This is the story of a man who practice the 12-Step AA Programme of recovery with such commitment and understanding that 'picking up a drink' was never an option.
I watched the process from onset to resolution and spoke to Richard about Recovery as he lived through the process. As a doctor himself, he was very aware of his declining physical condition. But when he spoke about Recovery, his eyes lit up and he spoke with enthusiasm and vigour.
In this book you will learn how one man faced death with dignity and remained sober using his practice of the AA's 12-Steps." - Canadian Don
---
We Also Recommend